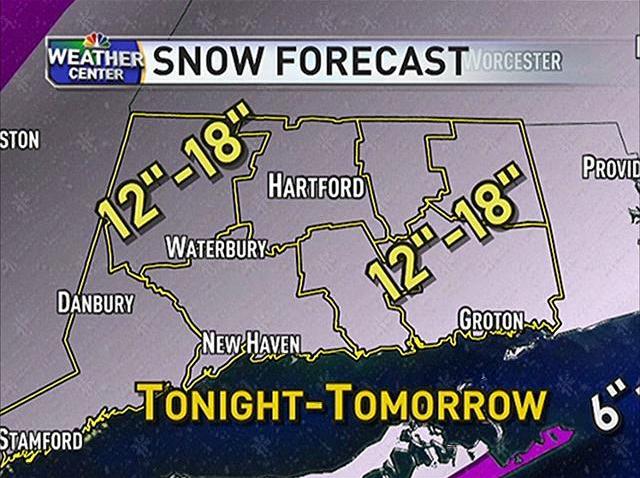 Gov. Dannel Malloy took the first step towards declaring a state of emergency ahead of one of the biggest snowstorms to hit Connecticut in several years.

Malloy asked all non-essential state workers to stay home until at least noon on Wednesday.

The nor'easter is expected to dump as much as two feet of snow on some parts of Connecticut late Tuesday and into Wednesday.

He signed a civil preparedness order late Tuesday after receiving a briefing from state meteorologists and agency heads.
He urged people in Connecticut to expect a great deal of snow and to plan accordingly. "I'd be buying bread and milk if I were you," Malloy said during a Tuesday afternoon news conference. Malloy said he has reached out to governors in other northeastern states to coordinate efforts during the storm.
Days after thousands were stranded on I-84 during a snowstorm, Malloy said he will keep a close eye on the roads. "If we get 20 inches of snow, we will close the highway," Malloy said.
On Monday, the storm brought snow and ice to the southeastern United States, paralyzing cities from Atlanta to Charlotte, North Carolina. Even areas in Mississippi and Alabama were covered in snow on Monday.
That system will combine with another system coming out of the Midwest to form a monster nor'easter off the coast on Tuesday evening.
As it moves north, the snow is expected to begin around 9 p.m. or 10 p.m. on Tuesday and for snow to be heavy between 3 a.m. and noon on Wednesday.
The exact track of the storm will determine how much snow Connecticut will get.
When the snow starts falling, send your photos to us by clicking here.