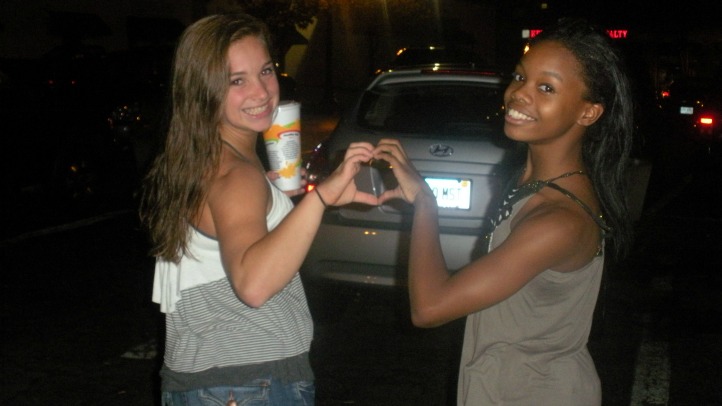 Some Glastonbury gymnasts are keeping a close eye on the London Olympics after training right next to gymnastics all-around gold medalist Gabby Douglas.
Douglas spent about two weeks training at Gymnastics Express Too in Glastonbury just after the 2010 U.S. Championships that were held in Hartford. She did well enough to qualify for the Pan American Games and needed a place to train rather than heading home, said Maureen Chagnon, the gym's owner.
"We're really excited. She spent a lot of nights with our children while she was here so a bunch of our gymnasts got to know her really well," said Chagnon.
Now, besides focusing on improving their skills, the girls at the gym are also taking time out to watch Douglas and other gymnasts compete at the 2012 Olympics. On Monday morning, they took a break to watch Douglas in the uneven bars final.
"She was always such a nice person and she was really inspiring to train with," said Courtney Cowles, a gymnast from Canton.
While Douglas was here, she stayed Dana Feigenbaum's West Hartford home. Feigenbaum is now a college gymnast and still keeps in touch with Douglas.
"It's just amazing to say that I know an Olympic gold medalist," said Feigenbaum. "It's crazy to say that she stayed at my house for over a week. She was so nice. She was so appreciative of everything."
Douglas now trains in Iowa. Before she moved there, she trained at Excalibur Gymnastics in Virginia Beach, Virginia. Dena Walker was her coach then. Walker is spending part of her summer at the Glastonbury gym helping out at their camp.
"We saw the talent the first day she came in the gym and we prepared her for this day for six and a half years," said Walker.
Her Olympic success is no surprise to her former coach or the athletes in Glastonbury who briefly trained with her.
"She's chasing her dreams and I'm really proud of her," said Cowles.
The Olympic gymnastics event finals wrap up on Tuesday.