A Killingworth man trying to surprise his wife with flowers got a bigger surprise when he saw the flower arrangement that was delivered looked nothing like the online photo.
Patrick Brandon searched online for a local florist in Hamden and found Avas Flowers.
He selected a bouquet called "My Sun, Moon and Stars." The picture online showed yellow roses, white lilies and small purple flowers in a blue vase, but Brandon said the delivered bouquet was made up of different flowers and a different color vase.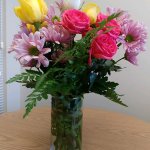 Click here for the company's online bouquet photo.
When Brandon contacted Avas Flowers, he discovered the company is based in New Jersey and contracts orders to local florists.
"The flowers and Products shown online are representative of color scheme, look and feel, overall style, and value rather than a literal interpretation of the delivery," the company's website reads. "Minor substitutions may be made without prior consent or approval from the Customer. "
Brandon felt the substitutions to his order weren't minor and contacted NBC Connecticut Responds.
"As far as this shop who delivered this not even close arrangement, I do apologize on their behalf. There are issues that we have had with them that have been addressed and dealt with," a spokesperson for Avas Flowers told NBC Connecticut.
The company applied at 30 percent discount to the order and also offered Brandon a $20 store credit to use in the future.
Avas Flowers recommends customers ordering online do so well in advance. Availability may be limited the closer they get to the delivery date, especially around major holidays. Customers should find out if the flowers come from a central warehouse or a local shop.
The company also suggests adding a note during checkout indicating no substitutions.
If a customer is unhappy with the arrangement that arrives, take a picture and send it to the company because many florists will replace it free of charge.