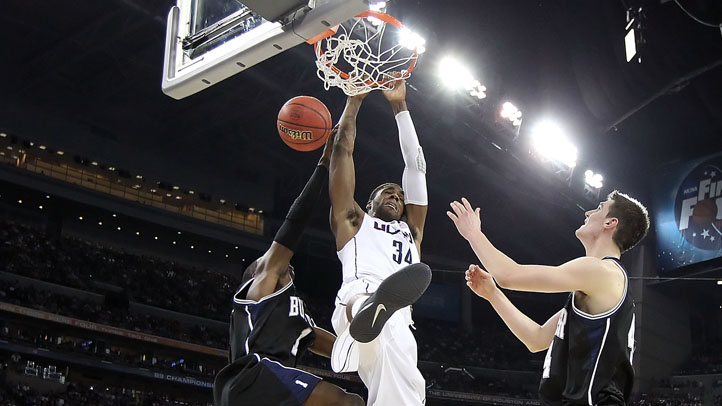 Much of the conversation the day after UConn defeated Butler in the National Championship game was about how poorly both teams played on the sport's biggest stage. It's an easy conclusion to draw when the final score is 53-41 and the losing team shot 18.8 percent from the floor.

Jim Nantz commented midway through the second half, as Butler heaved brick after brick, that he had never seen such a poor shooting effort "at any level." That's a hard point to argue, and maybe for basketball fans with no ties to either UConn or Butler, the game was something of a clunker. High-powered offense is often equated to well-executed basketball but cliches are cliches for a reason and none more perfectly fits this situation than "defense wins championships."

The Huskies played their best defense of the season during the NCAA Tournament. Against Butler, the tenacity, the rebounding, the boxing, out, the blocked shots -- it was all there. So, too were the Bulldogs missing shot after shot, from the paint and the perimeter, and that ineptitude certainly didn't hurt UConn's chances. But here's the thing: did the poor shooting make the Huskies' defense appear better than it was, or did the stifling defense force Butler into all those mixed shots?

There is no disputing that Butler missed more wide-open looks against UConn than they had at any point in the previous month. But it's not unusual for teams to occasionally go cold, especially behind the arc. Less common: the Bulldogs were missing layups and mid-range jumpers, almost all of them contested. That's solely a function of defensive pressure, much of which came from sophomore center Alex Oriakhi, who ended the night with 11 points, 11 rebounds, four blocks, and altered enough shots to give Butler players -- large and small -- pause whenever they were in the lane.

So not only were the Huskies more physical than the Bulldogs, to borrow a phrase from ESPN NFL analyst Ron Jaworski, they also rented space in the back of the the Butler players' minds. That was huge and, ultimately, proved to be the difference. In fact, Oriakhi made a strong case for Finals MVP. In the end, he didn't even earn all-tournament honors, though I suspect given how things turned out he was fine with that.

"[Coach Jim Calhoun] just told us we'd have to out-will and out-work them," Oriakhi said, according to the New Haven Register. "I knew (Matt) Howard was definitely a great player because he's been leading his team throughout, so I just tried to put as much pressure on their bigs as possible and just try to alter shots. And I was able to do that."

Back on March 3, a day after UConn lost at West Virginia and was still nothing more than a middling Big East team trying to find its way, Oriakhi admitted that inconsistency had been his biggest problem in 2010-2011. For me, it's to get it going early," he said at the time. "I feel if I either get a quick bucket or get a few rebounds early, I have a good game. Sometimes when I can't do either, I kind of get lost in the game."

Like most of his young teammates, Oriakhi has matured a lot this season. Lucky for UConn he saved the best for last:

"At the beginning of the [championship] game, I was able to score a quick four points," Oriakhi said. "I didn't think there was anybody out there that could really guard me. I picked up the two quick fouls and I knew I was going to sit down … While I was on the bench, I just tried to be the biggest cheerleader. I told myself, 'I'm going to need a big second half,' and I was able to do that."

There is virtually no way Kemba Walker returns to UConn in the fall -- and, really, there isn't a good reason he should. He will graduate in a month, and there is nothing left for him to accomplish at the collegiate level. But the emergence of Oriahki, Jeremy Lamb and Shabazz Napier, as well as less-heralded freshmen like Niels Giffey and Tyler Olander have totally transformed UConn's future.

In November, nobody knew what to expect and it was reflected in the preseason polls: the Huskies were unranked. Now this group of kids that didn't even show up on the national radar six months ago are national champs.