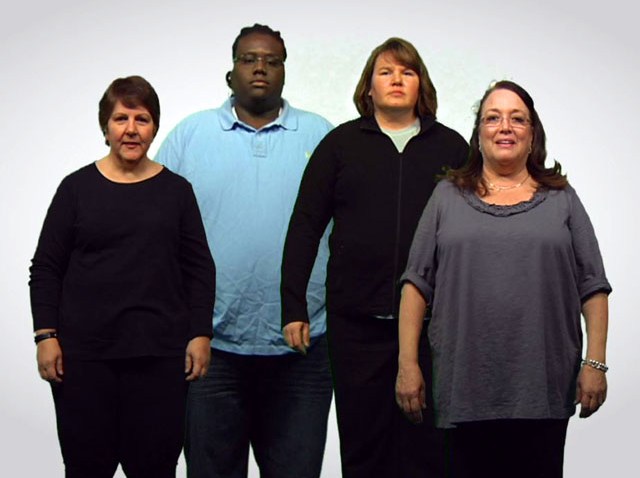 Back in February four CT residents embarked on a journey to better health.
With a dietitian and personal trainers at their disposal they committed to participate in a CT version of the Biggest Loser.

Jean Jordan from Old Saybrook is a school speech pathologist and mother of three.
When we first met her, she was a little unsure about joining the biggest loser ranks.
"I'm really nervous, anxious and anticipation all mixed together but I know it's something I need to do. I really want to get started," said Jean back in February.
She took off with the help of trainer Jessica Dean.
"Her determination is amazing she uses the tools I've given her and she's really brought herself a long way," said Jessica.
For Jean, it doesn't stop here. Most importantly, she's learned how to manage her busy life.

"There has never been a time in my life when I've had more on my plate then right now. So, the biggest thing O proved is I can do this no matter what else is going on in my life," said Jean.
J.R. Reaves from Farmington was our youngest and heaviest participant, starting at 421 pounds.
He came into this program wanting to drop weight for his October wedding.
"I never really paid attention that I was getting bigger and bigger. But I know that it's unhealthy and I definitely need to come down," said JR.
We teamed up JR with trainer Tyler English
The months brought plenty of ups and downs. including a back injury.
"I still think he has a lot of work to do making a lifestyle change," said Tyler.
There's work ahead but this program put JR on the right path.
"I'm happy with the experience it got me a lot healthier," said JR.
Elizabeth Szewczyk from Enfield put on her weight while her son Dan was sick with cancer about ten years ago.
"If there were donuts there that's what I would be eating, I wouldn't leave Dan. I would make sure someone was there all the time," said Elizabeth.
This was Elizabeth's chance to finally bring the focus back to her. With the help of trainer, Eric Jutras, that's exactly what she did.
"It's honestly what gets me up every morning and makes me feel like I love my job. I love what I do. Just to see the results to see this life change," said Eric.
Elizabeth worked hard and even after a bout of pneumonia she dominated the biggest loser spot.
"It's been the greatest thing since marrying my husband and having my children because it's just a complete transformation I know I go on from here my life really starts now with the rest of my life," said Elizabeth.
Suzi Waters from Middletown splits her time between her jobs as a nurse and caring for her first grandchild, Oliver.
She came into this program needing a life change.

"I'm exhausted. I'm hurting and walking to the parking lot is a real problem. My knees hurt, my feet hurt."
Working with trainer, Chris Arnold, she found the discomfort slowly began to disappear.

"Bottom line, is she has done way more as far as physically then I ever thought we'd be doing here," said Chris.
"It was a chance of a lifetime it was really such a blessing and I'm so thankful there's really just no words to say how thankful I am and I'm going to keep going keep doing this because I'm going to get to my goal and this is my life now," said Suzi.
Suzi waters started this program at 254 pounds, her final weigh in was 228, a total loss of 26 pounds.
JR Reaves began at 421 and now weighs 395, a total loss of 26 pounds.
Jean Jordan started at 272 pounds. She's down thirty to 242.
At Elizabeth Szewczyk's first weigh in the scale read 242. Now, with a loss of forty pounds Elizabeth is our biggest loser!
"I'm thrilled I lost that much weight," said Elizabeth.
All of our biggest losers say it doesn't stop here. We'll check back in with them at the end of August to find out how they've progressed!