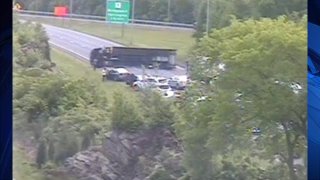 Interstate 84 east in Middlebury has reopened after a tractor-trailer overturned and closed the highway on Tuesday morning.
State Dept. of Transportation officials said the eastbound side of the highway was closed between exits 17 and 18. Traffic was rerouted off the highway while officials investigated.
At one point, there was nearly five miles of delays between exits 16 and 17.
The highway has since fully reopened. The crash was reported at approximately 8:55 a.m.
No injuries were reported as a result of the accident.