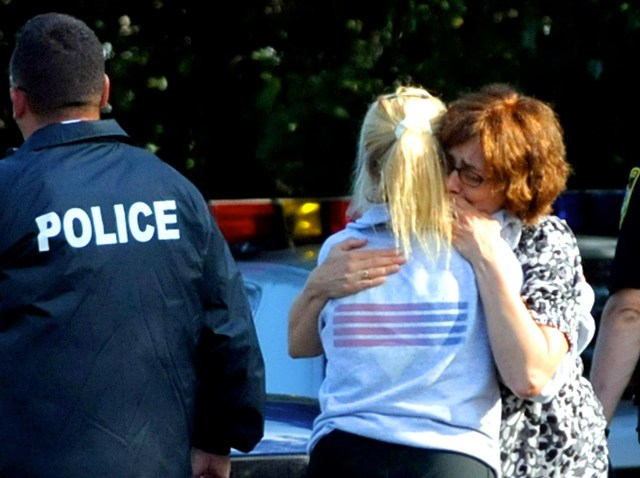 Until Tuesday, Hartford Distributors was known best as a family-owned business that sponsors local sports teams and makes donations to the community.

But around 7:30 a.m., the Manchester business became the setting of one of the nation's worst workplace shootings: a disgruntled employee, identified as Omar Thornton, shot eight coworkers before turning the gun on himself.

"Everybody knows the Hollander (family) as good, generous, upstanding people," State Rep. Ryan Barry said. "They're embedded in the community. Everyone knows Hartford Distributors. They treat their employees very well and they're part of the fabric of the town."

The company was founded by Jules Hollander, the Hartford Courant reported, and is currently run by his son, Ross Hollander.
Several family members work there -- including Steven Hollander, Ross' cousin, a vice president. Steven Hollander was shot in the arm and face, one of 10 victims of the shocking massacre. He was released from the hospital Tuesday afternoon.

Thornton was hired as a packer several years ago, and worked his way up to driver. He had complained to his ex-girlfriend about racial harassment at the company, and was accused of stealing, sources said. He was scheduled to have a disciplinary hearing for the theft accusation on Tuesday morning.

"(He) asked to resign, to come in to resign," said Brett Hollander, the director of marketing for the company, "and (he) chose not to, and shot my cousin and my co-workers."

The company is one of the state's largest beer and wine distributorships and carries hundreds of brands, according to the Courant. Last year, the company merged with Franklin Distributors, a South Windsor company, the newspaper reports.

U.S. Rep. John B. Larson told the Courant that the company was located on in East Hartford for several years and moved to Manchester about 15 years ago.
He is a friend of Ross Hollander and visited the site on Tuesday.
"This is a day of emotions no person, family, or loved one should have to experience," Larson said in a statement. "The Hollander family and the workers of Hartford Distributors have donated to our local charities and provided their time to bettering our state. I ask that we all be there for them during this critical time. My heart is with the deceased, the Hollander family and all those affected by this morning's tragedy."

When the city of Hartford could not afford a bronze statue of Mark Twain, the company came through and bought the tribute to one of Hartford's most famous former residents, the Hartford Courant reported.

"Everyone at Hartford Distributors is devastated by this morning's tragic and senseless act," the company said in a statement. "Our focus right now is on the families and making sure that we get the accurate information. Information is still being confirmed and we will release that information as it becomes available."