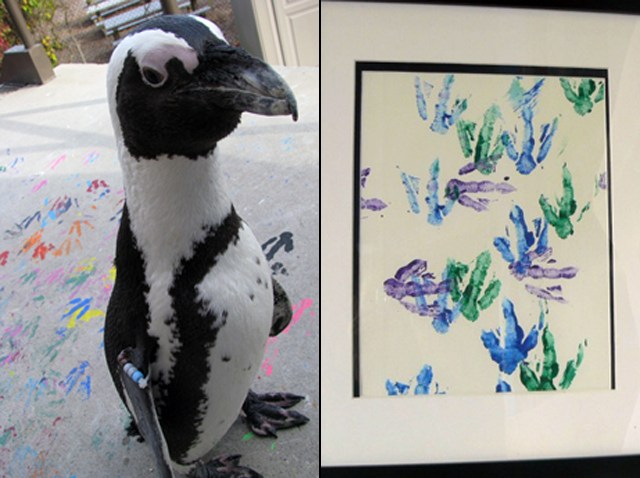 Valentine's Day is just around the corner and if you're looking for a unique gift, African penguins at the Mystic Aquarium can help.
Two pairs of penguins have used their feet to create 50 original paintings.
There's no need to worry that the penguins were abused. Officials from the
Mystic Aquarium
said painting is a form of enrichment for the penguin pairs.
First, the penguin sticks out its feet (they have been trained to do this as part of the aquarium's animal care program), and a trainer dabs non-toxic paint on them. A canvas is laid on the floor and the penguin is set down on it, free to waddle wherever it wants. Once the paint begins to fade, a new color is applied to the second penguin's feet. That penguin walks across the canvas to create a layer of hues.
Buying a one-of-a-kind piece of art also helps the penguin program. Proceeds from the sale goes toward the aquarium's penguin conservation efforts.
In 2010, African penguins were listed as endangered species. The 16-inch-by-20-inch framed paintings are on sale now for $124.99.
If buying a piece of art by penguins isn't for you, how about dining with them? On Saturday night, Mystic Aquarium will allow guests to dine with the penguins.
The dinner is $45 per person and includes a cocktail hour -- for you, not the penguin -- and a sit-down dinner.