Mostly clear skies and gentle winds will allow temperatures to tumble into the middle-30s in the hill towns tonight.
While air temperatures are not expected to hit freezing, the surface temperature near the ground can be colder in these situations. Frost advisories are posted just to the north across western Massachusetts.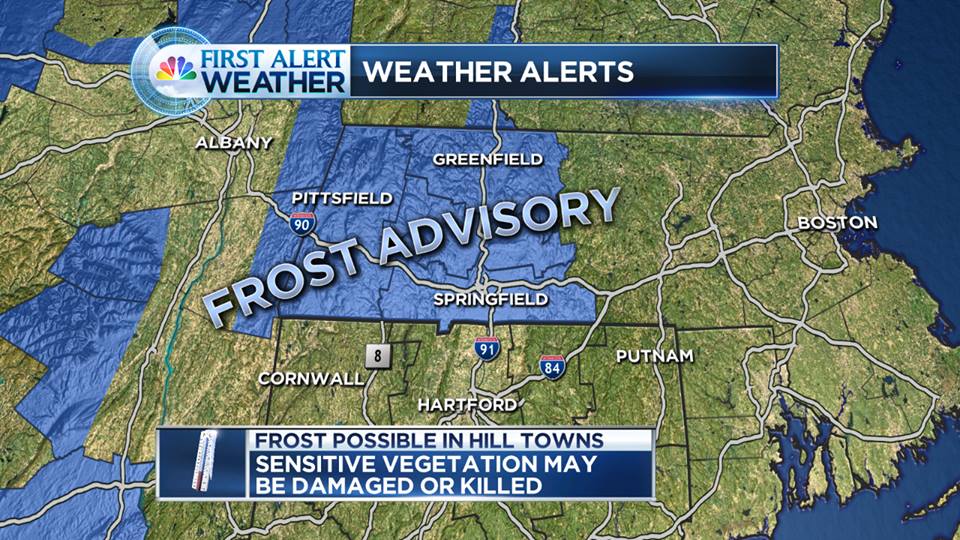 In the valley and along the shoreline, temperatures will generally remain in the lower- and middle-40s.
High temperatures tomorrow will be nearly ten degrees warmer than today, with full sunshine.
Columbus Day is the warmest day in the next 7-days, with temperatures in the middle-70s inland! Lots of sunshine is expected.
A cold front sweeps across the state on Tuesday, bringing with it a few showers. It won't be a washout, but there will be more clouds than sunshine and many towns will have some rain drops.
The big story after Columbus Day is tumbling temperatures. Each day will be cooler than the previous day.
Wednesday and Thursday look dry, then there's another chance for showers on Friday.
Temperatures by the end of the week will struggle to reach the lower-50s! The first hard freeze of the season is possible next weekend.