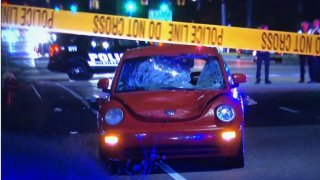 A person has died after being hit by a car in Wethersfield Wednesday night, according to police.
Crews responded to the area of 1310 Silas Deane Highway on the report of a motor vehicle collision involving a vehicle and a pedestrian.
The pedestrian, who was seriously injured, received emergency medical care on scene before being transported to a local hospital where the person succumbed to their injuries.
The identities of the persons involved are not being released at this time.
Part of the Silas Deane Highway in Wethersfield was closed for several hours, but has since been reopened.
The operator of the vehicle remained on scene and cooperated with the investigation.
Anyone who with information should contact Wethersfield Police Officer Albert Whaples at 860-721-2715.