Periods of rain will continue through tomorrow morning, a sign of an unsettled week to come.
A northeast wind will make it feel very raw outside as temperatures fall back into the upper 30s.
The rain will increase in intensity tonight but temperatures will remain safely above freezing.
The rain will be most widespread in the morning, before the commute, then diminish by late morning.
While a lingering afternoon sprinkle can't be ruled out, much of the second half of the day should be dry and cloudy with temperatures near 50 degrees.
Wednesday is mostly dry. More clouds than sunshine will still permit highs in the middle 50s. Yet again, a late afternoon or early evening shower is possible.
Mostly cloudy skies stick around Thursday, with a chance for showers. Highs will be in the upper 50s.
Finally, a short period of no rain arrives Friday and lasts into Saturday when skies will feature abundant sunshine. Temperatures will be seasonable, near 50 degrees.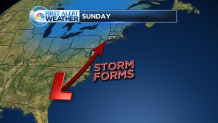 However, it won't stay quiet for long. A storm will form along the East Coast and bring rain or snow to the region.
It's very difficult to get snow to accumulate in middle March, especially during the day, so setup would have to be ideal in order to get snow.
It's also possible that the storm misses out to sea, a rarity this season.