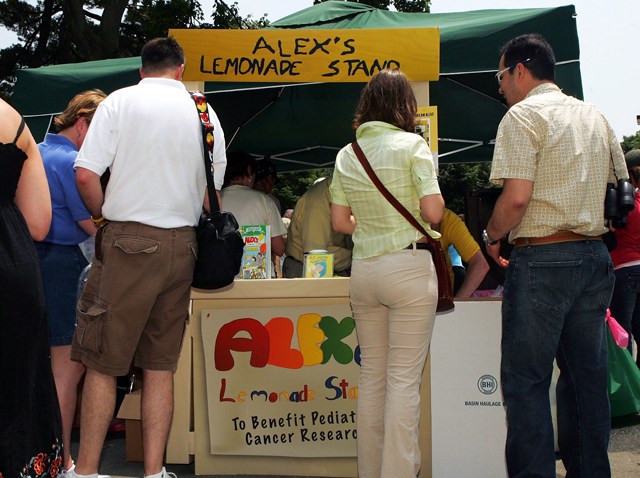 A permit dispute in Thomaston put fundraising efforts in jeopardy for Alex's Lemonade Stand Saturday.
"We came out here in the rain to help to support Alex's Lemonade Stand. It's a charity that raises money for research foundations, to try and fight the battle against childhood cancer", Richard Darm told NBC Connecticut's Doug Greene.
The adult kickball team had a permit to hold their fundraiser at Thomaston High School, but when they got there Saturday morning, a baseball team was already playing. Thomaston's first selectman made arrangements for them to play for free at Black Rock State Park in Watertown.
"He made the most diplomatic decision he really could, fortunately we were still able to get our tournament off the ground. Unfortunately, I don't know if we have the numbers we were initially anticipating", Darm added.
They figure they lost a few kickball people who went to Thomaston High as advertised and didn't go around the corner to Black Rock State Park, so that means they lost money. They hope to help out Alex's Lemonade Stands Foundation, the charity started by Alex Scott, that raised more than a million dollars before she died in 2004. The charity continues to fight childhood cancer.
"If we do 250 a team, the more people we get to play the more money we raise for the charity. Last year was our first year ever for having a kickball team and for one day having a tournament and end of season party we raised $2500 for Alex's lemonade stands", according to Katie Jablonski from Torrington.
They'll try to make up the shortfall at their end of the season luau in July.
2010 marks 10 years since cancer patient Alexandra "Alex" Scott held her first front yard lemonade stand in West Hartford to find a cure for all childhood cancers.

Lemonade Days is a three day national event that grew out of Alex's front yard lemonade stand, and is held every year over the same June weekend. During Lemonade Days, dedicated volunteers host thousands of Alex's Lemonade Stands across the country, raising over $1 million for childhood cancer research in one weekend. June 2010 will mark the 7th Annual Lemonade Days with an estimated 10,000 volunteers at over 2,000 Alex's Lemonade Stands around the nation making a difference for children with cancer.
Click here for more information on Alex's Lemonade Stand Foundation.