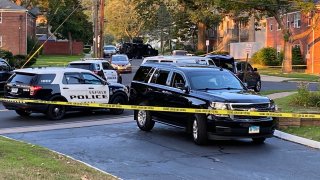 Police are investigating after a person barricaded themselves in a West Hartford home Friday night.
Officials said they were called to Hillcrest Avenue at about 2:40 p.m. for a report of possible projectiles entering an apartment and causing wall damage.
Responding officers then tried to make contact with a neighbor who refused to speak to police and barricaded themselves in their apartment.
Officers said they were able to bring the situation to a safe resolution, with the help of several departments in the area.
Hillcrest Avenue between Stevens Street and Abbotsford Avenue was closed to traffic, but has since reopened.
No injuries were reported and the incident is under investigation. No arrests have been made.
Anyone with information is asked to contact police at 860-570-8860. Anonymous tips can be left by calling 860-570-8969 or emailing whpdtips@westhartfordct.gov.