A Waterbury man was killed in a construction accident in Rocky Hill Tuesday.
Police said 24-year-old Jorge Alberto Mendoza was working on roof construction at 24 Evans Road when the roof collapsed. He was taken to Hartford Hospital where he died of his injuries.
The accident happened at PDQ, which is expanding their building, according to police.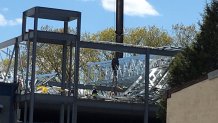 OSHA was called to the scene. The case of the collapse is still under investigation.