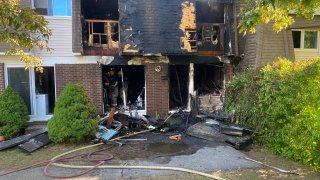 A person was hospitalized and several families are displaced after an apartment fire on Rubber Avenue in Naugatuck.
Firefighters were called to Southwood Apartments at about 3:30 p.m. Thursday for a reported structure fire.
Deputy Fire Chief Ken Hanks said crews saw heavy fire coming from the front door extending up the side of the building. The fire department requested mutual aid from nearby towns.
There are 18 units in the apartment building. Several of those units are now uninhabitable due to smoke and water damage. The fire was contained to one unit, according to crews.
One tenant in the building was taken to the hospital for smoke inhalation. Everyone else made it out safely, police said.
The Red Cross is helping families at the scene. Anyone that doesn't live in the apartment complex is being asked to avoid the area.
The cause of the fire remains under investigation, but authorities believe it originated in the kitchen.
No additional information was immediately available.