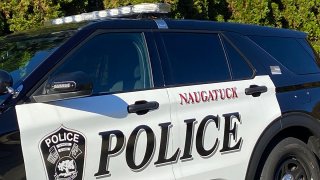 Naugatuck Police said a man is in critical condition after being struck by a car while trying to stop a car break-in early Tuesday morning.
Officials said the incident happened at about 4:40 a.m. on Alma Street.
Responding officers said they found a 42-year-old man that had left his home to confront a person trying to burglarize his vehicle.
While doing so, he was struck by a car, which fled the scene. The man was left with life-threatening injuries and was taken to a nearby hospital, where he remains in critical condition.
Family identified the victim as Brandon Guth.
Authorities said they believe he was struck intentionally. There's been a rise in car break-ins recently, according to police.
The Naugatuck Valley Collision Investigation Team and Connecticut State Police Major Crimes Squad are investigating.
Anyone with information is asked to contact police at 203-729-5221. You can also leave an anonymous tip by calling 203-720-1010.