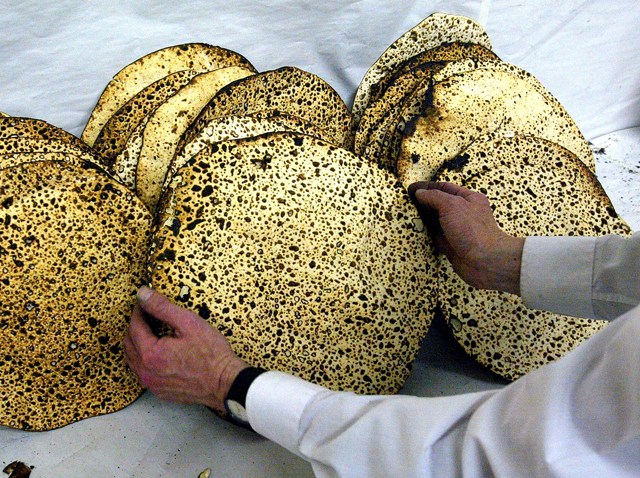 The Jewish holiday of Passover begins on Monday at sunset and Jewish families around the world, as well as in Connecticut, will gather to celebrate the traditional seder dinner.
For some, it means lots of cooking and preparation for a week without eating leavened bread. For others, it means picking up chicken soup and matzo ball soup.
With more than 1,200 pounds of beef brisket and 4,500 matzo balls to mix and make, the staff has lost track of how many pounds of raisin-carrot-pineapple salad--tzimmes--or kugel they've made.
Passover marks the Hebrews' exodus from slavery in
Egypt
as recounted in the Bible and in West Hartford, preparations actually began weeks ago.
Two weeks ago, the orders started coming in and the kitchen was stripped and cleaned of all traces of leavened bread. We're talking most grains of food with yeast.
The kitchen of the Albany Avenue store even undergoes surprise inspections from Rabbis who check to ensure that Kosher laws are being followed.
Everyone who works at The Crown is very serious about following Jewish Dietary laws.
"We only use olive oil or cottonseed because they are kosher. Corn and soybean oil are not," top chef
Stephen Grace
told the
Hartford Courant
. The kitchen is divided into three section: to prepare meat and dairy apart, in compliance with Jewish laws. All cookware and utensils are color-coded so the staff members use the appropriate tool — red for meat only, blue for dairy only, and green for parve, foods that are neutral, that contain neither meat nor dairy.
The end meal is one that would make your Bubbe or Zayde proud. The Crown Market is one of the last of southern New England's kosher markets.