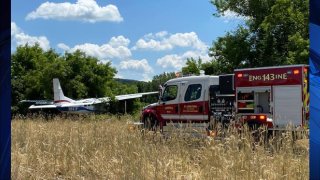 A plane that is connected to a local skydiving company has landed in a field after overshooting the runway at Ellington Airport on Saturday.
Airport officials said the pilot overshot the runway, went over a brook and into a field next to the airport.
The pilot was the only person on the plane and no injuries were reported, airport officials added. There is minor damage to the plane.
According to the airport, the plane is connected to Connecticut Parachutist Inc.
The incident remains under investigation.