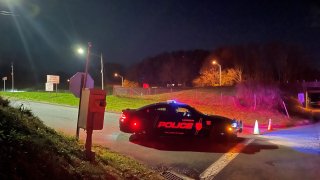 Connecticut State Police are investigating after a carjacking and car crash in Meriden Monday evening.
Interstate 691 in Meriden was closed because of what police described as an ongoing criminal investigation in the area. The eastbound side of the highway was closed between exits 10 and 11 but has since reopened, according to the state Department of Transportation.
Police said the carjacking happened on Bee Street. One person was taken into custody authorities said.
The Meriden Police Department is investigating the circumstances surrounding it.
Troop I is investigating the car crash on I-691, which involved two cars. Minor injuries were reported in the crash, according to state police.
It's unclear if the two incidents are connected at this time.
No additional information was immediately available.