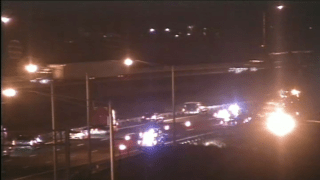 Part of Interstate 84 was closed in Hartford Thursday night after a car failed to pull over during a traffic stop attempt.
Hartford Police said they deployed stop sticks in an effort to stop the vehicle, and it came to a halt on the side of I-84.
Two people then got out of the car and fled into the woods. Officers took the driver into custody, but the passenger fled before police could get to him.
Police said they found a handgun inside the car, as well as a large quantity of drugs. The driver was a convicted felon who was on probation for a homicide, according to authorities.
Officers said the driver faces charges including interfering with an officer, criminal possession of a stolen firearm, possession of narcotics with intent to sell, and more.
The state Department of Transportation said the right and center lanes of I-84 West were closed, but have since reopened. Police activity could be seen in the area of exits 45 and 44.
Connecticut State Police said they're assisting Hartford Police. The crash was reported at approximately 10:45 p.m.