Police officers responded to reports that a woman was screaming for help as a man chased her in Hartford Wednesday afternoon and they have arrested a man accused of trying to kidnap the victim.
Police said officers responded to Franklin Avenue at 4:21 p.m., found a vehicle believed to be connected to the incident and detained the people in it.
Then police found video showing a man chasing the victim as she ran and forcing her into a vehicle, a news release from police says.
Marco Davila, 31, of Stafford Springs, has been charged with criminal attempt at kidnapping in the second degree, threatening in the second degree, unlawful restraint in the second degree, breach of peace in the second degree, criminal violation of a protection order.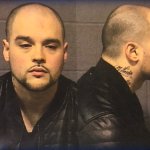 Editor's Note: Police originally identified the suspect as David Davila, then later said his name is Marco Davila.