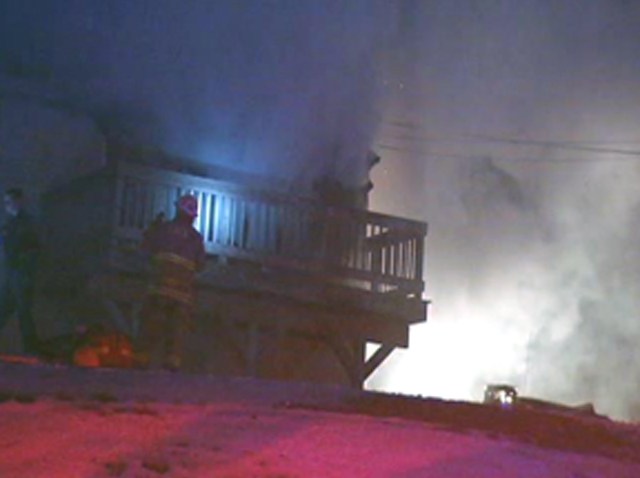 An East Haven man has been charged with arson and cruelty to animals, accused of setting fire to his house, shooting Sasha the dog and killing a cat.

James Carangelo, 43, was rescued from his burning home at 220 Warner Road on Jan. 3, three days after an alleged domestic dispute at the house.
East Haven Police went to the Warner Road house at 6:14 a.m. on Jan. 3 to respond to a fire and tried to contact Carangelo, the sole occupant at the residence, but could not because of the amount of smoke.

Firefighters pulled Carangelo and Sasha, a 2-year-old bull mastiff, from the house. The dog had been shot in the jaw and was taken to the Central Veterinary Hospital to be treated. A cat had died in the fire.
Carangelo was taken to Yale-New Haven Hospital for injuries sustained in the fire.
The East Haven fire marshal and police investigated and determined that Carangelo started the fire and shot the dog, police said.
From the house, police seized about 25 handguns and assault rifles, all of which were legally owned.
This was the second investigation dealing with Carangelo in a matter of days. On Dec. 31, police said, there had been an altercation at a residence between Carangelo and a family member, who received a minor injury. The incident carried over to a residence in New Haven. Police were not able to find Carangelo that night and applied for an arrest warrant.
New Haven police are investigating part of the complaint.
Carangelo was arrested at 6 a.m. on Friday after being released from Yale-New Haven Hospital.
He was charged with first-degree arson, unlawful discharge of a firearm, reckless endangerment and two counts of cruelty to animals.
He was also charged with disorderly conduct regarding the family dispute.
During processing, Carangelo was charged with two counts of failure to be fingerprinted after not complying with parts of the booking process.
He was held on $751,000 bond and is being arraigned in court on Friday.