Connecticut State Police have identified a suspect after an assault in Willington left one man dead and another man with serious injuries on Friday.
State police said they are looking for Peter Manfredonia, 23, after he was seen leaving the scene of the homicide and serious assault on Mirtl Road.
Manfredonia is a senior at the University of Connecticut where he studies in the joint School of Engineering/School of Business Management and Engineering for Management program, UConn spokesperson Stephanie Reitz said.
He first enrolled at UConn in fall 2015 and and he was not living on the UConn campus at the time of the incident in Willington or during recent semesters, Reitz said.
The university says it is in contact with Connecticut State Police and they are providing assistance and information that may assist with their investigation.
"The university expresses its deepest, most heartfelt sympathies to the victims and their families in this horrible, incomprehensible tragedy. They are all in our thoughts," Reitz said. "With respect to the student in question, while the University can't discuss specific individuals or cases, UConn strives to do everything possible to identify and engage with students of concern and to provide them with all the assistance and resources we can both for their own well-being and that of the wider community."
Troopers said they responded to Mirtl Road in Willington just after 9 a.m. Friday, found the two men and started CPR because of the severity of their injuries.
Both men were transported and LifeStar responded for at least one of them, police said.
An "edged weapon" was used, according to police, and they are working to identify what the weapon was.
It appears Manfredonia and the victims did not know each other and investigators called the attacks an isolated incident.
"I was very shocked because he didn't seem like he'd be that type of person. He was always very upbeat. He had a necklace on that always said, 'be kind' on it," recent graduate Jade Gallo said.
Police identified the deceased victim as Theodore Demers, 62, of Willington. They did not release the identity of the second victim.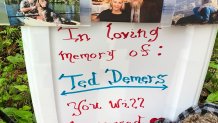 Manfredonia was on a red sport-type motorcycle, was wearing a multicolored helmet believed to be red and white, and dark clothing, according to state police. He is considered armed and dangerous.
Some UConn students expressed their feelings about the incident.
"I feel pretty disgusted, honestly that one of our students might be involved. It's disgraceful and kind of embarrassing," Antonio Ariola said.
"It's pretty scary to think that someone my age, someone in my class could possibly do something like that," Alyssa Annenberg said.
I was just like wow, he was like, blending in with all of us. It's kind of crazy," recent graduate Jabari West said.
Manfredonia was last seen leaving the scene heading toward Route 20.
If you see the driver, call 911 or Troop C at 860-896-3200 and do not approach.