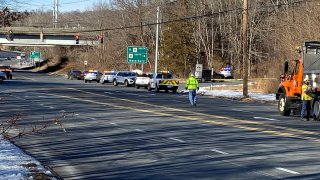 State police have identified the two men found dead in the woods just off an on-ramp to Route 8 in Shelton on Thursday.
They say 32-year-old Jose Rosario, of Bridgeport, and 33-year-old Raul Calderon, of North Branford, were found in the vehicle just after 11:30 a.m. Thursday.
State police said they received reports of the crash on the Route 8 North on-ramp at exit 12 Thursday and they found a car flipped over after hitting multiple trees.
Investigators said they believe the crash happened prior to Thursday, but they don't know exactly when it happened.
Police are asking anyone with information to contact Detective Mark Jesusdowich at 860-706-5653.