New London police have arrested the mother of a 4-year-old boy on murder charges after she claimed she strangled him on Sunday.
Officers responded to a parking lot on Nautilus Drive around 6:30 a.m. after getting a report of a woman damaging a vehicle with a bat. When police arrived, they said they made contact with the vehicle owner and the reported suspect had already left the scene.
Officials on scene said the alleged female suspect, 33-year-old Tiffany Farrauto, approached police and spoke with them, officers said.
According to police, Farrauto told them that she had strangled her son. Officers immediately went to the apartment and made entry to conduct a well-being check.
When officers entered the apartment, authorities said they found an unconscious and unresponsive 4-year-old boy, who they later confirmed was her son. Officers began CPR in an attempt to resuscitate the child, while notifying emergency medical personnel.
The child was transported to Lawrence + Memorial Hospital and was pronounced dead shortly after arriving, police said.
Farrauto and her son appear to have lived together in the apartment, which they moved to in November 2020, according to officials.
Authorities did not release any details about what the cause of the boy's death may be. They said an autopsy will be performed Monday morning.
"Our community is hurting," said New London Mayor Michael Passero. "We're a very small city. We really are just one big family and so we all share in a loss like this."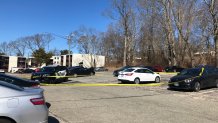 No motive has been determined at this time, according to officials.
Police said they have been unsuccessful in reaching any family or the child's father at this time.
"I was at the crime scene while the child was being transported to the hospital. So I talked to the officers who first arrived at the scene. They were choked up by it. All of them there have children, couple have children the same age. And it hits home. It hits you right in the gut," Police Chief Peter Reichard said during a press conference.
Farrauto appeared in court Monday. She has no other active warrants, according to police.
She faces charges for murder and risk of injury to a child and was held on a $1 million bond.
In court on Monday, the judge increased the bond to $2 million and the court is requesting suicide and mental health watch.
The public defender said Farrauto has mental health issued and requested a competency to stand trial evaluation, which the judge granted.
The New London Judicial District State's Attorney's Office, the Connecticut State Police Major Crime Unit and the Office of the Chief Medical Examiner were notified and responded to the scene.
At this time, investigators said there is no threat to the community.
"Of course everyone would have loved for a different outcome but that wasn't to be. We've offered counseling to all of the first responders. Obviously, very difficult for everybody involved," Passero said.
The investigation remains active.
Anyone with information is asked to contact detectives at 860-447-1481. Anonymous tips can be submitted by texting NLPDTip plus the information to 847411.
Stories from LX News
LX, or Local X stands, for the exponential possibilities of storytelling in our communities.