New Haven Police have arrested two men after a stabbing on Saturday. Within hours of the stabbing, there was also a separate bank robbery and shooting that remain under investigation.
Police said there was a bank robbery around 9:45 a.m. at a bank on Foxon Boulevard. The suspect is described as a stocky-build man in his late 30's to middle 40's. He is bald or has a clean shaven head with a gray and black beard.
A few hours later, officers said one person was stabbed on Harding Place between Dixwell Avenue and Sherman Parkway in the Newhallville neighborhood around 1 p.m.
Police said a 46-year-old New Haven man was stabbed multiple times in the shoulder and leg. He was transported to Yale-New Haven Hospital where he was listed in stable condition.
Investigators said they learned that the man had been confronted outside of his home by two men, later identified as 24-year-old Dawud W. Amin and 19-year-old Nadir Amin, both of New Haven.
During the altercation, officials said the Amin brothers physically assaulted and stabbed the man and then left the area on foot.
A short time later, police said they took the brothers into custody on Dixwell Avenue and Bassett Street.
According to police, Dawud is facing charges including conspiracy to commit first degree assault and assault third degree. Dawud's bond was set at $100,000.
Nadir is facing charges including assault first degree and conspiracy to commit assault first degree. His bond was set at $200,000, police said.
Both men were in court in New Haven on Monday.
The man who was stabbed has since been released from the hospital, officers said.
Fifteen minutes after the stabbing, police said a 44-year-old New Haven man was shot in a parking lot outside of the Harbor Crest Condos on Quinnipiac Avenue. He was transported to Yale-New Haven Hospital where he was listed in critical condition with a gunshot wound to the lower abdomen, officers said. His condition has since improved, according to police, and he is now listed in stable condition.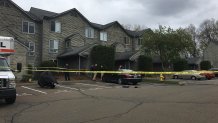 The investigations into the bank robbery, the stabbing and the shooting are ongoing.
Witnesses are asked to call the New Haven Police Department Detective Bureau at (203) 946-6304.