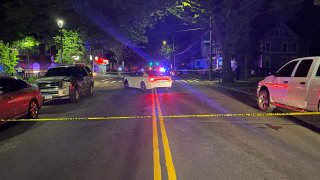 Three people were injured during a drive-by shooting downtown New Haven Wednesday night, according to police and Mayor Justin Elicker.
Officials said the triple shooting happened in the area of Ferry Street and Chatham Street.
Police responded to the area just before 9:28 p.m. after receiving a Shotspotter alert of gunfire on Ferry Street, between Chatham Street and Limerick Street.
They found a 32-year-old Hamden man and a 22-year-old New Haven man who had been struck by gunfire.
Both victims were transported to Yale New Haven Hospital where they were both treated for non-life-threatening injuries, police said.
Police said Yale New Haven Hospital reported a third victim, a 35-year-old New Haven man, had walked into the hospital with non-life-threatening injuries.
Authorities don't think the incident was random, and the gunman may have targeted these individuals. The three people shot all have prior gun arrests or criminal history.
Detectives from the Major Crimes Unit are leading the investigation.
A total of 28 shell casings were found at the scene. Police said they think a large-capacity magazine gun could have been what was used.
There was another shooting incident that happened in the city Wednesday night. A 49-year-old was shot and killed on Starr Street at about 7 p.m. Officials don't think these incidents are connected.
The State's Attorney responded and is investigating. The U.S. Attorney was also called in to investigate.
Police ask any witnesses who have not yet spoken with police to contact the New Haven Police Department Investigative Services Division at 203-946-6304.
Callers may remain anonymous or submit tips anonymously by calling 1-866-888-TIPS(8477), or texting "NHPD plus your message" to 274637 (CRIMES).