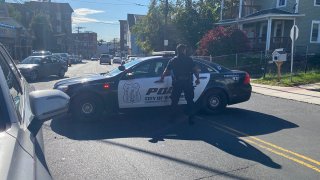 Two men were shot in Waterbury Thursday in what police called a drive-by shooting.
Officers responded to the 900 block of Main Street around 1:40 p.m. and found the two victims.
A 39-year-old man was shot in the back and a 30-year-old man was shot in the stomach, according to police.
Both were listed in serious condition, police said.
Anyone with information about the shooting is asked to call Waterbury detectives at (203) 574-6941 or Crime Stoppers at (203) 755-1234.