Police are looking for two people believed to be involved in an armed robbery at Chick-Fil-A in Norwalk.
The pictured individuals were allegedly involved in the crime, according to police.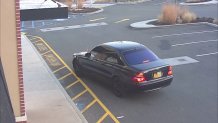 Police said they responded to the Chick-fil-a at 467 Connecticut Ave. in Norwalk at 7 a.m. on Friday.
No one was injured and the detective bureau is investigating.
Anyone with information or who noticed suspicious activity in the area is asked to call 203-854-3011.