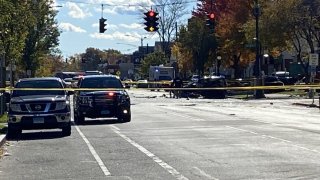 One person was killed in a three-car crash in Hartford Wednesday morning.
It happened just before 11 a.m. at the intersection of Franklin Avenue and Brown Street.
Police said a Dodge Caravan, a Lexus, and a Dodge Charger collided at the intersection.
The driver of the Caravan, identified as 58-year-old Jesus Torres, of Hartford, was taken to the hospital where he later died, according to police.
The occupants of the Lexus were taken to the hospital with serious injuries and the driver of the Charger was treated at the hospital for non-life-threatening injuries, police said.
The crash shut down the intersection for several hours.