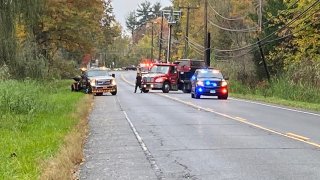 A man has died after a crash on South Main Street in Middletown Wednesday morning.
Police officers and firefighters responded to South Main Street, between Randolph Road and Coleman Road, just after 11 a.m. after they received a report that a vehicle went off the road.
They found James Henderson, 60, of Middletown, alone in a vehicle and he was brought to Middlesex Hospital, police said. He was pronounced deceased a short time later, according to authorities.
Based on the preliminary investigation, police believe the 1988 Ford Bronco was going north on South Main Street, veered onto the right shoulder and hit a Frontier utility pole, snapping it in half.
Middletown police are investigating and ask anyone with information to call them.