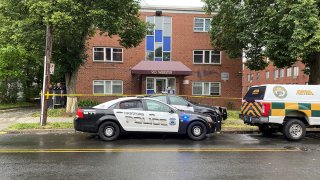 A woman has serious injuries and a man is in critical condition after a stabbing in Hartford Friday morning.
Police said they are investigating the case as a domestic incident and said the man's injuries appear to be self-inflicted.
Officers responded to Webster Street around 7:16 a.m. after receiving a report that a woman had been stabbed and found her with serious injuries as well as a man who had serious stab injuries.
Both people were transported to an area hospital for treatment.
The female is listed in stable condition.
Police said the incident is being investigated as a domestic incident and preliminary information suggests that the male's injuries appear self-inflicted. He is listed in critical condition.
The Hartford Police Major Crimes and Crime Scene Divisions is investigating.
Anyone with information is asked to call the HPD Tip Line at 860-722-TIPS (8477).
If you or someone you know is experiencing domestic violence, contact the National Domestic Violence Hotline by calling 1-800-799-SAFE (7233), visiting www.thehotline.org or texting LOVEIS to 22522.