A police investigation is underway in Milford on Wednesday morning.
Multiple police vehicles and police tape can be seen blocking Hawley Avenue at Beach Avenue.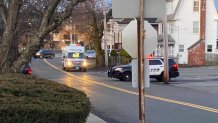 There is also police tape blocking off the parking lot of an apartment complex that are opposite Anchor Beach.
The Milford Police Department mobile command unit is on scene.
Authorities have not released any details on what they are investigating.
This is a developing story. NBC Connecticut will update this story as details become available.