Connecticut State Police are looking for a missing three-week-old baby and his mom from Middletown.
Troopers said the baby may be with his mother, 32-year-old Brigette Wood.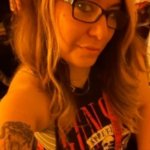 They've been missing since May 6 and a Silver Alert has been issued for them.
Police said the baby, named Zion Gonzalez, weighs about five pounds. A photo of Gonzalez was not provided.
Both were last seen in the area of Eastern Drive in Middletown today Friday, May 6, around 3:00 p.m.
Anyone with information on their whereabouts is asked to contact Middletown Police at 860-347-6941.