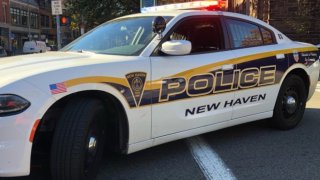 Police have arrested a person involved in a fight during a homicide vigil in New Haven Wednesday night.
Officials said the vigil was being held to honor a person killed in a recent homicide.
The vigil was held on South Genesee Street. Members of the police department were already there paying their respects when a fight broke out.
Police intervened during the large fight that broke out at about 8:20 p.m.
Bystanders in the crowd told officers that someone involved in the fight had a gun.
Officers were able to identify the teen, who later ran and engaged police in a foot pursuit. While trying to flee, they threw a gun from their possession and ran into an apartment.
Police were able to take the teen into custody. He faces charges including interfering with police and carrying a pistol without a permit.
No additional information was immediately available.