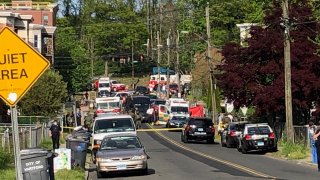 Negotiators were called to a scene in Hartford after what started as a well-being check led to threats of violence, according to police.
Police said crews responded to a home on Hamilton Street for a well-being check and the person threatened them. Negotiators were called to the scene.
The situation was resolved peacefully and the subject was taken to a local hopsital for evaluation.
Hamilton Street was closed between Zion Street and Hillside Avenue but is expected to reopen shortly.
No other details were immediately available.
This is a developing story. Check back for updates.