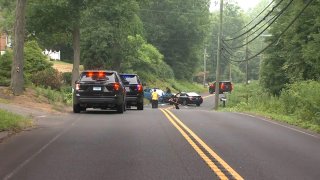 A man in his 70s has died after a head-on crash in Wolcott early Monday morning.
Police said they received a report of a head-on crash in the vicinity of 969 Woodtick Road at 5:47 a.m.
They said a vehicle going north on Woodtick Road crossed into the southbound lane and hit a vehicle that had been going southbound.
A man in his 70s was in the vehicle that was heading north, and he suffered critical injuries, according to police. They said he was transported to the hospital and died from his injuries.
The person in the vehicle heading south was taken to the hospital and the injuries were not life-threatening, police said.
Police have not released the names of the people involved in the crash.
Officers from the Naugatuck Valley Crash Investigation Team are investigating.