A prisoner who escaped from state custody in Hartford this morning is back in custody after police found him hiding under a porch, wearing only wet boxer shorts and hospital socks.
Kevin Feliciano, 22, of Hartford, was originally taken into custody in Hartford early Thursday morning and police said escaped from custody as troopers were taking him to the courthouse around 8 a.m.
"A little while ago, as troopers were transporting the suspect to court, the suspect was able to escape his handcuffs and flee the area," Trooper Kelly Grant said.
Grant said Troopers were bringing Feliciano to court with marshals and he was somehow able to get out of the metal handcuffs he was in.
After escaping, Feliciano stripped out of his orange jumpsuit and police found it in the area.
Deputy Chief Joseph Buyak was the one to locate him soon after, Deputy Chief Brian Foley said.
Buyak looked under the porch of a Russ Street home and found Feliciano hiding there, Foley said.
Grant said there were several troopers and plain clothes officers in the area during the search because they are there for Democratic Presidential candidate Hillary Clinton's visit to the city today.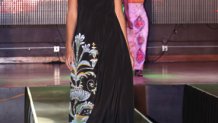 Feliciano is suspected of leading police on a chase in stolen car from Greenwich on Wednesday night, ramming a police officer and crashing at Sigourney and Park streets in Hartford.
Several streets in Hartford were closed as police searched for Feliciano and at least 20 police officers and K9 units responded and several schools were in lock-in as a precaution.
State police also sent the Trooper 1 helicopter to help in the search.
Bond for Feliciano was set at $500,000. He appeared in court in a blue paper jumpsuit and was surrounded by around 10 marshals.
He is due back in court on May 11.