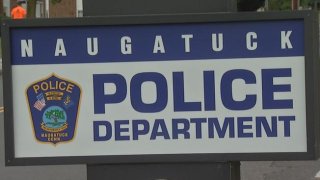 Connecticut State Police are investigating after a Naugatuck police officer shot at a vehicle following a traffic stop, police said Tuesday. Police said the officer fired his gun after the vehicle drove at him before driving off, and now police are looking for the driver.
Police said the incident stemmed from a traffic stop at 8 p.m. on Monday on the Route 8 northbound on-ramp at Maple Street. Police would only say the traffic stop occurred after an officer "observed criminal activity."
Police identified the driver as Roznovsky Machado, 24, of Waterbury. He was driving an orange 2019 Dodge Charger with Ohio registration HQJ2680 during the traffic stop, according to police. Police said they did not know in Machado was injured from the gunfire.
The officer who fired his weapon, identified by Connecticut State Police as Sgt. Nicholas Kehoss, was pulled from the field and is on administrative duty while the investigation takes place, police said. Kehoss has been with the Naugatuck Police Department for 10 years.
A second officer on scene, identified as Officer Kevin Zainc, did not fire his weapon, according to State Police.
One of the officers received minor injuries which required treatment at an area hospital.
Connecticut State Police and the Fairfield State's Attorney are investigating the use of force. State Police said both officers were wearing body cameras, and that the footage and audio will be released in the coming days.
Anyone with information relevant to the investigation is asked to call Connecticut State Police Western District Major Crimes Squad at 860-626-7900.
Naugatuck police are asking anyone with information on the whereabouts of Machado to can contact NPD at 203-729-5221 or the NPD Confidential Tip Line at 203-720-1010. He is facing charges including attempted first-degree assault, second-degree assault, and assault on an officer, among others.