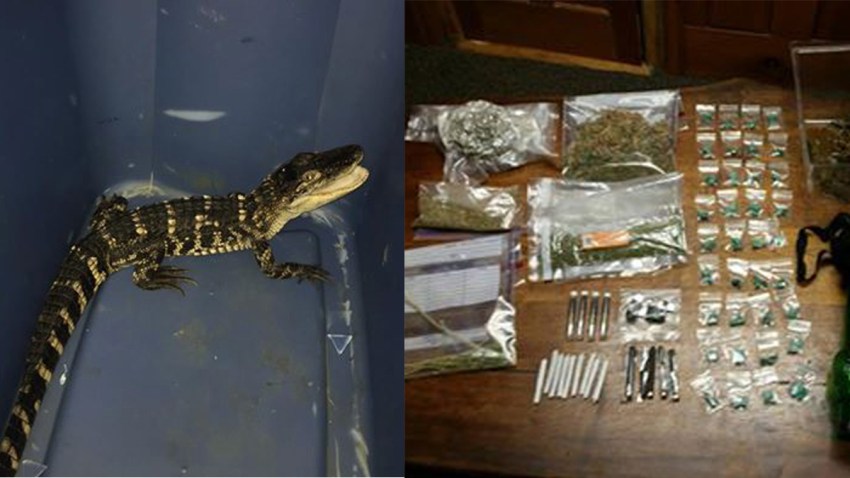 Environmental police arrested a man in New Hartford for possessing a two-foot-long American alligator and operating an illegal marijuana grow.
Jake Ouellette was charged with illegal possession of an American alligator, over four ounces of marijuana, paraphernalia, intent to sell and manufacturing marijuana after police received reports about the reptile living at the man's home on Maple Hollow Road, police said.
The homeowner informed Connecticut State Environmental Conservation Police of an alligator he saw during a home inspection at a tenant's apartment, according to officials.
After some investigation, EnCon police officials said they called Ouellette, who denied owning the alligator and refused to come back to the residence. However, responding officers were able to see in plain view two children's pools with pumps and water circulation equipment.
Police were able to obtain a search and seizure warrant after they determined that Ouellette had multiple warrants out for his arrest in Connecticut and Florida.
During the search, police seized an American alligator, numerous marijuana plants, seeds, rolled joints, hash oil, e-cigarettes containing hash oil with USB adapters, packaging materials and equipment, drug paraphernalia and interior growing equipment including seed starter kits, sheets of foil, fertilizer and log books containing transactions and various species of marijuana.
The alligator was turned over to a reptile rehabilitative and educational organization, EnCon police said.
Ouellette was arrested on July 27 at his job in Wolcott and taken into custody.