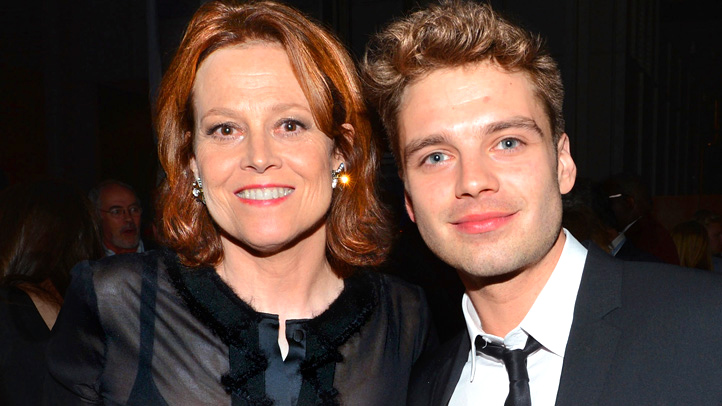 Sebastian Stan played his share of bad boys battling their demons, including Carter Baizen in "Gossip Girl," Blaine in "Hot Tub Time Machine" and Jack in NBC's short-lived "Kings."
Now he gets to step it up in the USA Network drama "Political Animals", playing not just a bit of a bad boy, but a bad boy in a really intense place. He brings to life T.J. Hammond, son of Elaine Barrish Hammond (Sigourney Weaver), who is a former first lady, unsuccessful presidential candidate and now secretary of state.
As a member of one of the country's most scrutinized families and the first openly gay son of an American President, T.J. has spent his life trying to please others while attempting to find a place for himself in the world.
For Stan, 28, doing the six-part series has been an opportunity to find himself in a very pleaseant world, working with the likes of Weaver and Ellen Burstyn, who plays his grandmother.
Tell us a little about your character in "Political Animals"?
T.J. is constantly trying to find himself in different situations. Whether it is with his parents or simply wherever he is constantly trying to understand his surroundings and find his footing. He feels he is a representative or spokesperson for his family – the pressure of that weighs on him and leads to a more intense, insane kind of lifestyle with his substance abuse.
In the series, T.J. is the first openly gay child in the White House. He struggles with drugs and alcohol. How did you avoid clichés when approaching the character?
It's very important to mention that [show creator] Greg Berlanti wrote these people as people. There was nothing about it that was caricature. I was very lucky – for various reasons – but I had a script in front of me that was a map to follow. So that was already never going to lead me to a stereotype. At the same time, I personally thought that instead of dealing with how he has these issues and how he's going to be a crazy person, the truth of the matter is it is another character that strives to be loved. And to give love.
So I simply avoided thinking about the other things and just followed the greatly written text. And tried to remember that this is someone who just wants to belong in the world that's closing in on him.
This is Sigourney Weaver's first foray into television. What was it like to work with her?
As an actor she's very perceptive, intuitive and instinctive. Overall, towards me, she was a mother figure. It was just so funny because we would do a scene and sometimes she would come up to me afterwards and there would be something she would do, like grab my earlobe or tap me on the chest, and it was just the way that it was in the scene – she really embraced all of us. It was really wonderful working off of somebody of that stature who was so giving.
Well it's pretty cool to have Sigourney Weaver playing your mom and Ellen Burstyn playing your grandmother.
Absolutely. I told Ellen she has one of the best, most incredible smiles I have ever seen. When she smiles you feel like something is right in the world.
You only recently finished filming, correct?
Like this last weekend, this past Saturday! We had long, often 14 hour days, but it really was like working with family.
"Political Animals" deals with the press intrusion on the family's life. How do you feel about all the media attention you receive now?
We now live in a world where everyone is a target, everyone's being monitored in some way. It applies to everyone. You strive to do something right in the world and hope it lands the correct way but everyone has their own opinion. My point is everyone has an outlet to speak about something these days. It's out my control so why should I judge that or pay attention to it. So I don't.
Do you read what is written about you?
No. T.J. would read all that. He would be somebody who constantly reads what people are saying about him. Where was he at, what was he doing there. He's also constantly trying to cover his tail. In his mind he is thinking, 'I went to a club last night. What happened? Who saw me? What are they saying? Did I do something wrong? Because I can't remember because I was a lunatic last night.' He's struggling with addiction in the public eye so someone like that would definitely read everything said about him.
What's with all the bad boy roles?
[Laughs] I have absolutely no idea. It's not me. I can't even walk down the street in New York and hold an ice-cream cone without dropping it or having it drip on me. Everything I try and do in my work is very different than how I am and how I feel and how I lead my life. I'm interested in characters and people who are striving at something that is ultimately good, but they're having a hard time doing it.
I'm trying to see the humanity in it but ultimately they're just more fun to play. They really are.
"Political Animals" airs Sundays at 10 ET/9 C on USA.