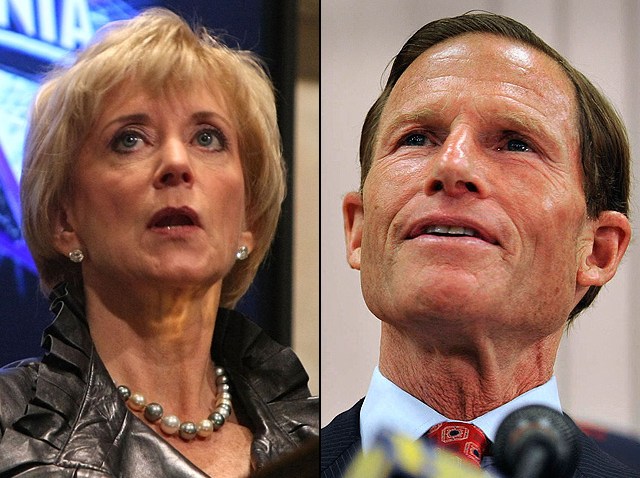 Richard Blumenthal is still in the lead over Linda McMahon in the race for U.S. Senate race.
Attorney General Blumenthal is the frontrunner among the Democrats and former World Wrestling Entertainment CEO McMahon is the frontrunner among the Republicans in the race for the seat Democratic Sen. Christopher Dodd will vacate because he is not running.
According to the Quinnipiac poll released on Friday, Blumenthal leads McMahon, 54 to 37 percent.
"Connecticut voters still trust Attorney General Richard Blumenthal despite the Vietnam controversy. While Blumenthal remains very popular, Linda McMahon's favorability numbers are only slightly positive," Quinnipiac University Poll Director, Douglas Schwartz, ssid.
Blumenthal lost one percent from the lead he held last month, when the poll was 55 percent Blumenthal and 35 percent McMahon.
"Ms. McMahon, however, has the momentum, even if the latest movement is only a small three-point change. She is inching up on Blumenthal. In January, she trailed Blumenthal by 41 points. In every subsequent poll she has cut into his lead and now has cut that lead by more than 24 points.
The poll comes out the day after reports were published showing that this already big-money race is getting even bigger.
Campaign finance reports show McMahon has added another $7.5 million of her personal fortune into the campaign over the last three months, the Connecticut Mirror reports, bringing her investment to $21.5 million.
"She still has a long way to go, but she has a lot of time and a lot of money," Schwartz said.
Blumenthal has raised $1.6 million in the last three months and had $2.1 million banked, the Mirror reports.
The Quinnipiac survey also shows McMahon leads two fellow Republicans, former Congressman Rob Simmons and financial analyst Peter Schiff, in the Aug. 10 primary. Simmons will be on the ballot but has stopped campaigning.
Follow us on Twitter @NBCConnecticut, on Facebook, and sign up for breaking news SMS alerts on your phone by texting "CTBREAKING" to 622669.
Copyright AP - Associated Press