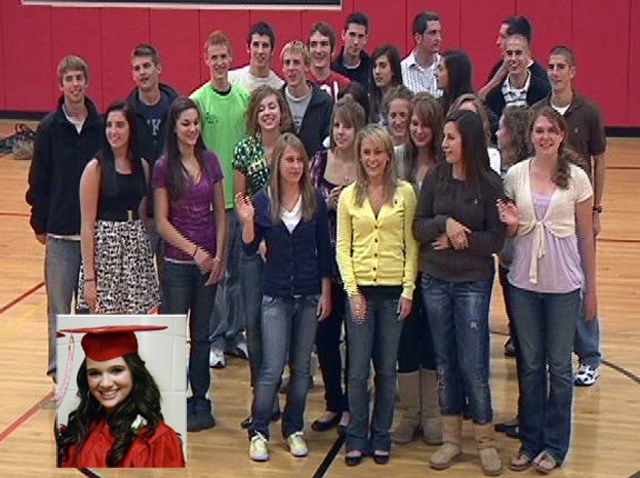 Sure, having an American Idol finalist at graduation makes for a less than ordinary end to the high school years, but the 13 sets of twins who received diplomas could put the 2010 graduating class of Pomperaug High School in the record books.
Lauren and Alyssa Damiani, twin sisters, said they realized that the school had more twins that the record holders, so they sought out to break it andapplied with Guinness Book of World Records.
That's three more sets than the Massachusetts high school that set a record in 2007, when 10 sets of twins graduated.
This year, two schools in New York thought they might have set a record with 12 sets of twins graduating, but it looks like the Southbury school beat those by lucky number 13.
"This puts an end to a beginning," Lauren Damiani, 18, told the Waterbury Republican-American. "We all started together as the 13 and we all ended together, and that's what matters."
Other notable elements of Pomperaug's graduation were Katie Stevens' return from her "American Idol" rehearsals in California for graduation.
"To sum up last night.. Graduation was amazing.. Grad night = the best night ever!!! Right now.. I'm so tired.. I've been awake for 21 hrs," she tweeted on Friday.
And former President Bill Clinton addressed the graduates through a recorded statement, the Republican-American reported.
"Those of us who are privileged with an education also have a responsibility to help solve the pressing problems of our community, our nation and our world," Clinton said, according to the Republican-American. "If you take what you learned here and continue in the constant pursuit of knowledge and work for the common good, I know you have the knowledge to live your dreams and help others live theirs."
As for the graduating twins world record, Pomperaug Principal Lorrie Rodrigue told the newspaper, the school is still awaiting confirmation.
Copyright AP - Associated Press