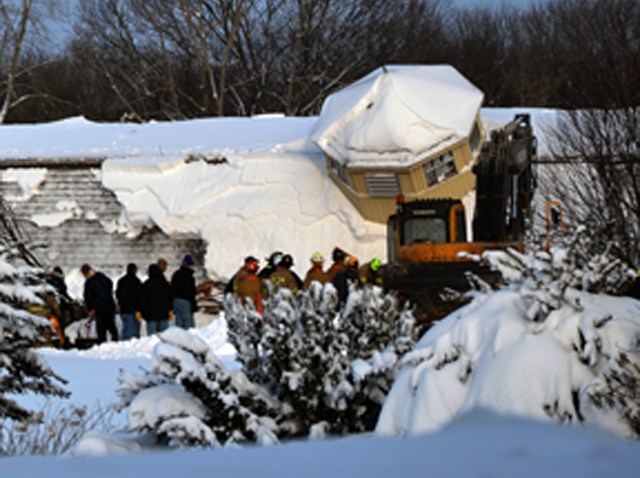 Amid the many roof and building collapses around the state today, one resulted in the death of a horse.
The barn at Lindy Farms, 100 Maple St. in Somers, collapsed. The horse had to be euthanized.
As more snow fell on top of existing snow and ice, emergency officials have responded to building and roof collapses in Portland, Somers, Wallingford and Plainville. The Connecticut Post reports that the Silvermine stable in Norwalk collapsed.
There was also a partial roof collapse at Zandri's Stillwood Inn in Wallingford. The building was evacuated
A body shop at 5 Townline Road in Plainville collapsed. The owner said the building is destroyed.
Midstate Recovery Systems, at 285 Airline Road in Portland, has collapsed and the roof of Prehistoric Mini Golf located at 680 Portland-Cobalt Road has collapsed.
A partial roof collapse is reported at Tri-State Tire in Wallingford, at 136 Dudley Ave., and that led to a gas leak.
While the cause is not yet known, snow has caused problems for buildings with flat roofs as snow piles up.
The Middlebury Fire Chief says a flat roof led to a roof collapse on Woodfield Road. A neighbor had heard a loud bang, and when she looked up, her neighbor's roof had caved in and the walls pushed out. The house is a loss.
In New Haven, officials are asking residents who have concerns about the structure of their homes to call 203-946-8221 for assistance.
The snow is also affecting schools. Several schools have closed or will be starting late. You can check them here.
Follow us on Twitter @NBCConnecticut, on Facebook, and sign up for breaking news SMS alerts on your phone by texting "CTBREAKING" to 622669.