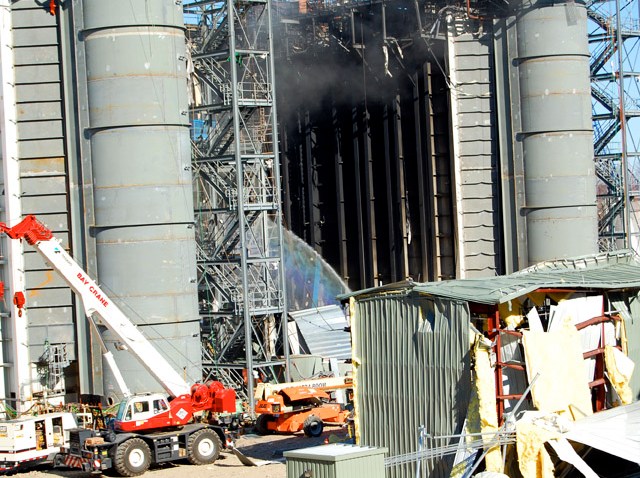 Across the Connecticut River from the explosion site, houses sustained damage from the blast.
As the city of Middletown investigates with other authorities, the city is also coordinating efforts for residents who experienced structural damage to their homes and workplaces. People who suffered damage are urged to contact O&G's insurance company at 888-310-9542.
Patti Henderson lives across the river from the plant in Portland and her windows look out to the building where the explosion occurred.
The garage door of the home she shares with her boyfriend, Dan Dziob, was damaged by flying debris, plaster fell from the ceiling right near a structural beam and the hatch door was sucked into the attic after the natural gas explosion just after 11 a.m. Sunday.
"It sounded like it was right next to the house, like a bomb had just gone off," said Dylan Lockwood, who lives up the road from the river.
His brother, Bryan, 9, was terrified and burst into tears when he felt the explosion.
Bernadette Niland was in her yard with her two dogs when the blast happened
"The explosion went off and I turned around and that whole left stack there flames were shooting up almost as high as that stack," Niland said, pointing to one of the two smoke stacks visible from the plant.
Niland and her neighbor next door had windows break from the intensity of the blast.
Besides the house he shares with Henderson, Dan Dziob owns another house along the river that is up for sale.
In that house, anything that was on the windowsill, went crashing to the floor. It's only minor damage, but Dziob says he's frustrated that no one from the town or state has come to check for anything more.
"We're closest to the blast and if it wasn't neighbors checking on neighbors," Dziob said. "We have old people that live on the this street. There's a lot of damage to the houses on this street."
Homeowners are encouraged to reach out to their private insurance companies until O&G, the contractor can assess damages on and off the immediate location, according to the mayor's office in Middletown.