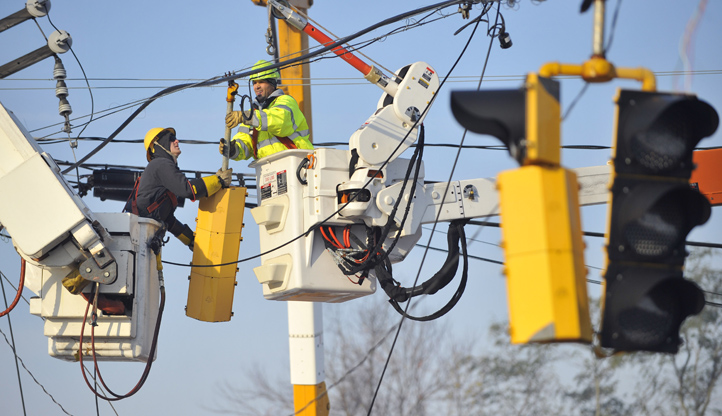 Strong winds associated with a major winter storm began gusting in Connecticut Friday night, including a wind gust that reached 60 miles per hour in Groton.
More than 17,000 Connecticut Light & Power customers were without power as of 8 p.m. Almost all of the outages were in Southeastern Connecticut. As of Saturday afternoon, that number was up to more than 37,000.
Gov. Dannel Malloy said on Friday that utility companies projected 30 percent of customers might lose power during this storm. CL&P is reporting that about 2 percent of customers are affected by the outage.
In advance of the blizzard, CL&P, the state's largest power company, said it is prepared to respond to the blizzard.
The company activated its emergency response plan in advance of the storm, according to a statement from CL&P "and is prepared for any possible power outages as the predicted heavy, wet snow and high winds have the potential to bring trees down onto power lines."
CL&P said that around 400 line workers and hundreds of outside line workers are arriving and more are expected tomorrow.
A spokesperson from CL&P said the company was pre-staging employees across the state so they will be where they are needed to respond.

United Illuminating Company also said it developed plans ahead of the storm for how it would respond if power outages occur.

A statement from the company said officials began watching the weather patterns as early as Wednesday. They have held internal meetings to begin preparations, secured several contractor crews and notified employees to be on alert in case they are needed for restoration efforts.

"It was just 7 days ago that we were discussing a wind storm and very quickly we're watching out for a possible Nor'easter," James P. Torgerson, UI's president and chief executive officer said in a statement. "Our team knows what is needed and we are taking all necessary precautions to be prepared for any effects on our distribution system."
Michael Tetreau, first selectman of Fairfield, issued a code red for town and said UI is projecting power losses of 10 percent to 50 percent and power restoration could take two to three days. However, no power outages are reported in Fairfield.