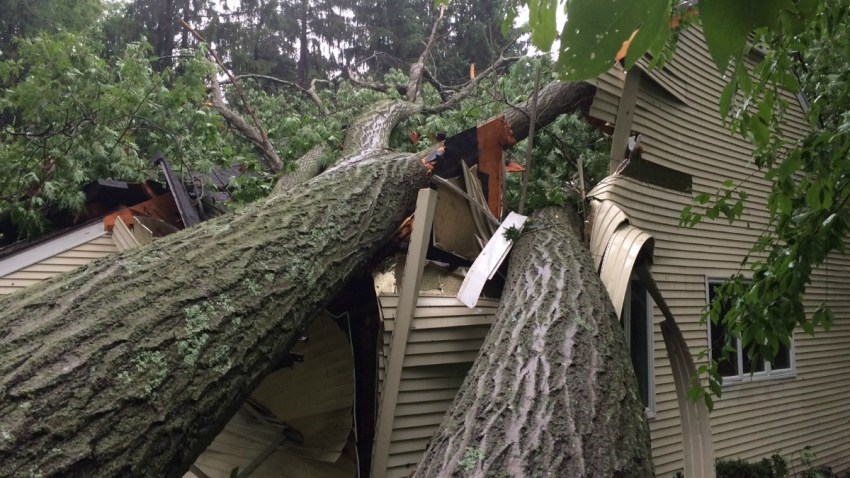 Power remains out for around 1,300 homes and businesses in Wallingford today after storms ravaged the area on Tuesday.
Municipal utility company Wallingford Electric said some 3000 homes were without power Wednesday. Town officials said they expect to restore power to another 200 homes by midnight Thursday into Friday that most customers should have power by the end of the day Friday.
Electricity may not be restored fully until Saturday morning, officials said. A variety of problems have contributed to the outages, so officials cannot provide a more precise estimate.
Wallingford Electric's six line crews are working to restore power with help from municipal electric utilities in Massachusetts, including three crews from the Taunton Municipal Light Plant, one from the North Attleboro Electric Department and one from the Wellesley Municipal Light Plant, are assisting with the efforts.
Four crews from Asplundh Tree Expert Company are also helping.
"Our first priority continues to be the securing of all downed wires and hazardous sites. This process sometimes makes it necessary to disconnect power lines that are damaged, which results in even more customers losing power in the short term," Wallingford Electric said in a statement. "We ask our customers for their understanding as we continue to take these steps to ensure that all serious hazards are properly addressed."
Customers who are without power should determine whether there is damage to the service connection to the home or business, the utility said.
A licensed electrician will have to repair any customer-owned facilities before the municipal power supply can safely restore power.
Customers who have questions about which components of their electrical service they are responsibility for should call the WED Storm Call Center at 203-265-5055 and more information is posted online here.
Customers with emergency generators are asked to use them properly to keep linemen safe as they work to restore power.
Wallingford Electric asks residents not to connect a home generator directly to your home or business wiring. It should instead be connected through an approved cut-off switch that will automatically disconnect the home or business from the power grid when the generator is being used.
This work must be done by a licensed electrician.