What to Know
What: Strong winds with gusts of 45 to 60 mph could result in power issues. Heavy rain with rainfall totals of 1 to 3" may cause flooding.
When: Sunday through Monday morning. The strongest part of the storm will occur Sunday evening into the overnight.
Where: All of Connecticut with gusts over 60 mph possible along coastal communities of southern New London and Middlesex counties.
4:11 A.M. Update
Power is slowly being restored. Eversource is reporting 157,000 without power and United Illuminating is reporting 7,760 without power.
There are damage reports from multiple cities and towns across Connecticut, including trees and wires down. There are road closures all over due to downed trees and wires. In some areas, power outages are affecting traffic lights.

12:20 A.M. Update
Power outage numbers continue to climb. Eversource is now reporting over 170,000 customers are without power while United Illuminating is reporting more than 10,000 outages.
Winds are gusting between 40 and 65 mph with the highest gusts in southeastern Connecticut.
Winds could gust to 70 mph. Strong wind gusts will continue through about 2 a.m.
There are damage reports from multiple cities and towns across Connecticut, including trees and wires down.
____________________________________________________________

11:30 P.M. Update
The damaging winds have arrived. The Connecticut shoreline is experiencing wind gusts over 50 mph. Unfortunately, the wind gusts will continue to rise over the next couple of hours.
Peak wind gusts will occur from now until about 2 a.m.
Eversource is reporting nearly 60,000 customers without power. Some of the hardest hit towns are Ledyard, Stonington, Guilford, and Madison.
United Illuminating reported more than 12,500 outages.
The rain should taper off after about midnight leaving the state with scattered showers.
____________________________________________________________

7:45 P.M. Update
Bands of heavy rain are moving through the state with rainfall rates of 1 inch per hour. A Flash Flood Warning has been issued for Litchfield county and is in effect until 12:15 a.m.
Winds are currently gusting between 25 and 35 mph with the higher gusts along the shoreline. Wind gusts will quickly increase in the next couple of hours with gusts over 50 mph expected by 10 p.m.
We're still forecasting peak wind gusts along the shoreline of 60 to even 70 mph. This will approach hurricane force wind status. Areas away from the shoreline can expect wind gusts of 50 to 60 mph at the peak.
Peak wind gusts will occur between 10 p.m. and 2 a.m.
____________________________________________________________
A powerful storm is moving through the state bringing with it damaging winds and heavy rain. The strongest part of the storm moves into the state after 10 p.m.
High winds are expected to cause power outages across the state.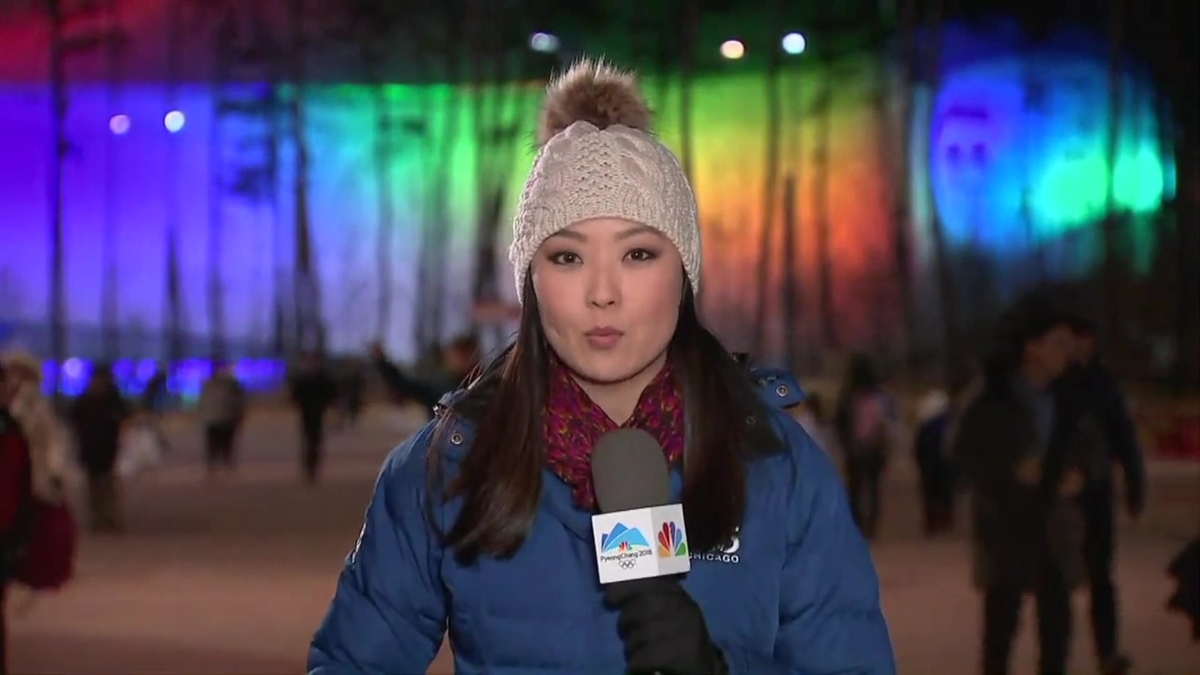 Weather Impacts:
The wind component of this storm system will likely result in thousands of power outages throughout the state.
The area that will see the highest amount of power outages is the coastal areas of the state.
As of 9 p.m., Eversource reported more than 18,000 customers without power. United Illuminating reported nearly 3,500 outages.
The Rocky Hill Ferry was closed due to flooding and high water Sunday.
A High Wind Warning is in effect for the entire state.
The NBC Connecticut team of First Alert meteorologists was forecasting winds to gust between 45 to 60 mph statewide. Even higher gusts are possible along the shoreline and especially areas of southern Middlesex and New London counties. Winds could gust over 60 mph in this part of the state.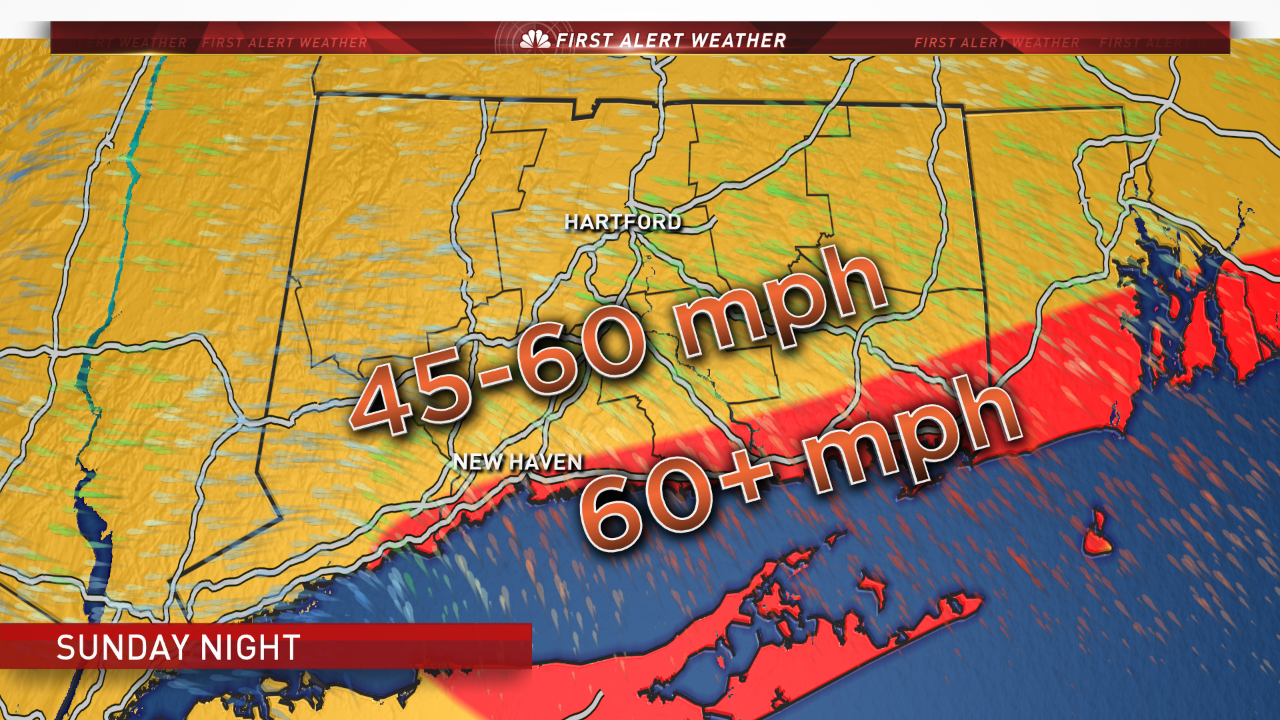 High wind gusts coupled with a wet soil may result in uprooted trees which in return would cause power issues throughout the state.
Check out interactive radar which shows the storm moving through the state.
In addition to the wind there is also a Flash Flooding Threat.
A Flash Flood Watch has been issued for all of Connecticut and is valid through Monday morning.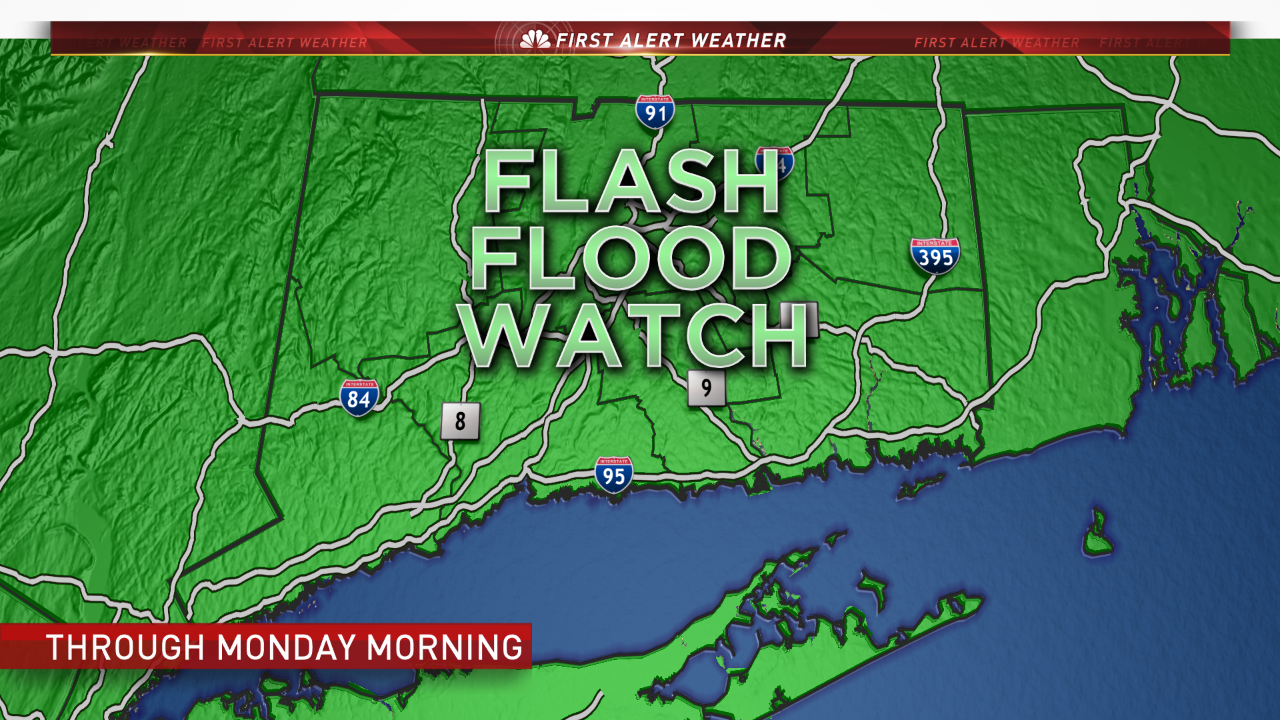 The heaviest rain will fall Sunday evening into the early morning hours of Monday.
Parts of the state already received over 5 inches of rain this past week.
We're forecasting another 1 to 3 inches of rain throughout the state. Luckily the heaviest rain appears to stay to the west of Connecticut impacting areas of Central Pennsylvania and Upstate New York.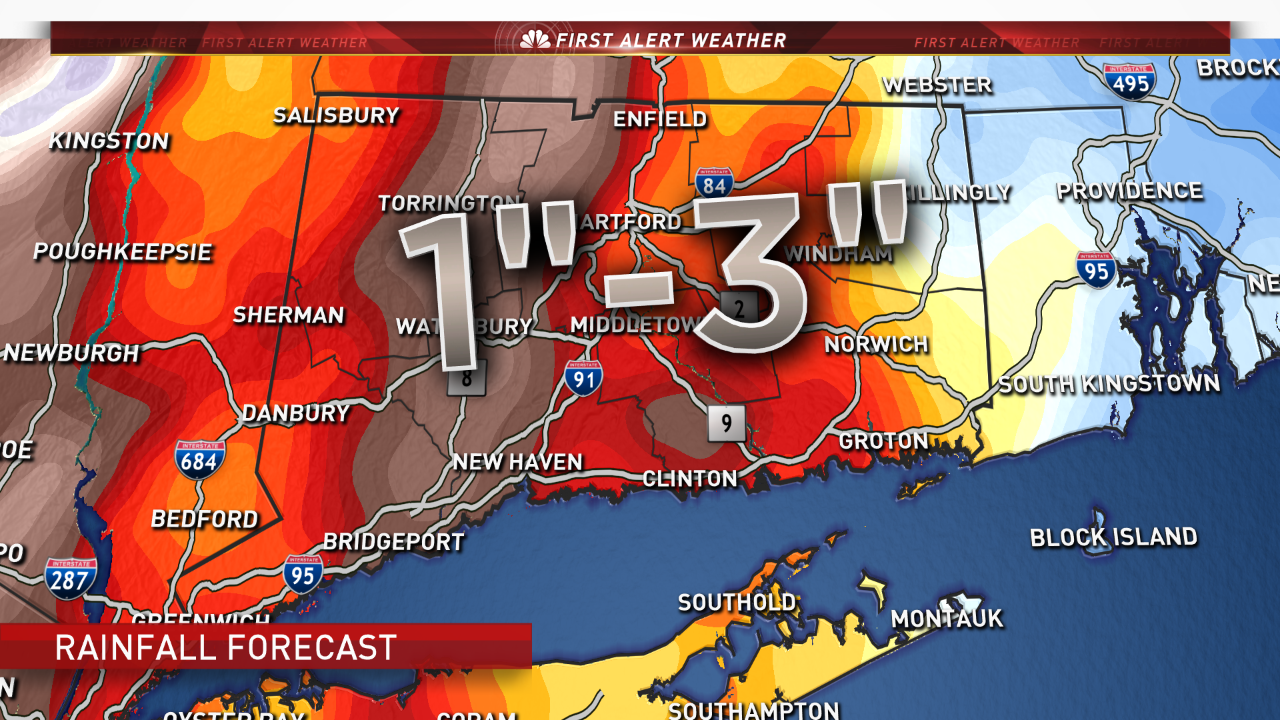 Make sure to download the NBC Connecticut App to get the very latest information on our weather threat. You can also track the rain using Interactive Radar.