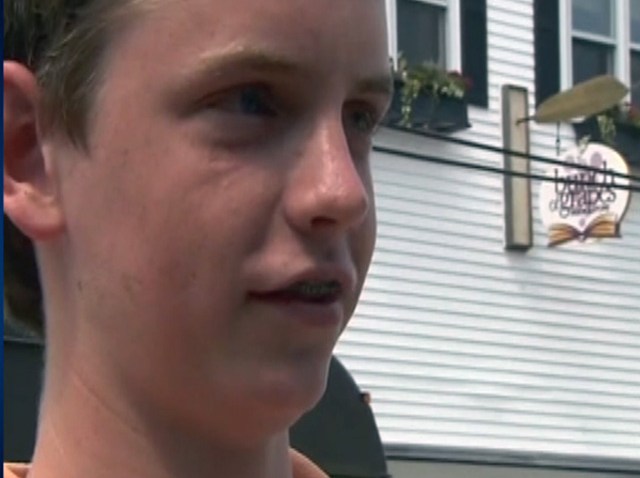 A Simsbury boy has quite a vacation souvenir after getting President Barack Obama's autograph on the Vineyard.
Brendan Murphy, 14, was on Martha's Vineyard with his family while the first family was vacationing on the island.
The meeting happened after Brendan's father, Ed, saw Secret Service agents at the Bunch of Grapes Bookstore, so the family went inside, hoping something would happen.
It did
When Obama walked in with his daughters, Sasha and Malia, Brendan's family realized that all they had to do to get close was offer the president his book to sign.
So, that's what Brendan did. He asked the president to sign his memoir, "Dreams From My Father."
The president happily obliged.
"He just made a joke out of it. He turned to people and said. 'I didn't know we were doing a book signing.' And then he looked down, he grabbed it and signed it," Brendan said. "I was shaking the whole time. I was nervous but excited too."
Other people wanted photos with the president, but he said he was with his daughters, so he would not being doing photographs.
The Murphys not only met the president, they also have video of him. No television cameras were around, so the Murphy's video is what appeared on television.
Then when Obama brought his daughter upstairs in the bookstore, Brendan's sister, Ciara, 12, got the opportunity to speak with the First Daughters.
"They started talking to me about vacation and everything," she said. The girls asked her is she was there on vacation.
"I said, 'We're here camping for a week,' and they said, 'That's cool,'" she said.
While the meeting with the president was unusual, he was approachable,
"President Obama seemed like a very normal person. He was just wearing a t-shirt, jeans and sandals, and he was just really friendly," Ciara said.
This is the second year in a row that the Obama family has vacationed on Martha's Vineyard.
Like last year, the First Family is staying in a rented 28.5-acre property.
Copyright AP - Associated Press