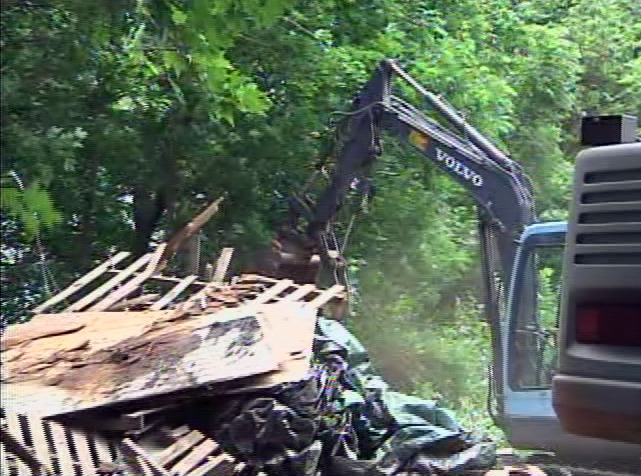 For hours Thursday, excavators could been seen at the end of Marine Court in Bristol, cleaning up and tearing apart a property filled with tires, old cars and farm equipment, which are possessions that Frank Kerr says have been in his family for years.
"The city didn't tell me they were going to destroy the house, and it's irreplaceable. It was something that my father cherished," said Kerr.
Kerr says he wasn't notified by the city or a court order that the city intended to come down on his property. When he protested this morning, he says police threatened to arrest him.
"My due process rights were violated. It was not brought into court, the City had no judge's order and they destroyed valuable property," said Kerr.
The city says this has been an ongoing issue for about 18 years now, and the Health and Building Departments are both involved. Kerr believes his neighbors are the ones who complained. NBC Connecticut spoke to some of them who said all the clutter and Kerr's blighted house both have been eyesores.
"Maybe they were scared that the kids would go over there and somebody would get hurt," speculated Rick Kozikowski, who lives next door to Kerr with no complaints.
"I pay about $12,000 a year in property taxes and I've been a good neighbor. I have wooded property that doesn't bother anybody. I'm a very quiet person and have been reclusive for many years, and I don't see why my neighbors, they hate me for some reason, they're prejudice against me for some reason," said Kerr.
However, other neighbors say they haven't had a problem with Kerr or his collection. In fact, it's been a part of the neighborhood ever since they can remember.
"The yard has been like that for as long as I've been around here which has been at least ten years, and I haven't seen any change in it. It hasn't gotten worse, and it hasn't gotten any better, so it's been the same for a long time now," said Tom Lavan, another neighbor.
Kerr says he is trying to retain an attorney to get an injunction on the demolition. He also wants to sue the city for damages.
NBC Connecticut tried to contact the head of the Building Department, Guy Morin, but he did not return our calls.